Freshers Party - Transduction
TIPS extends warm welcome to Freshers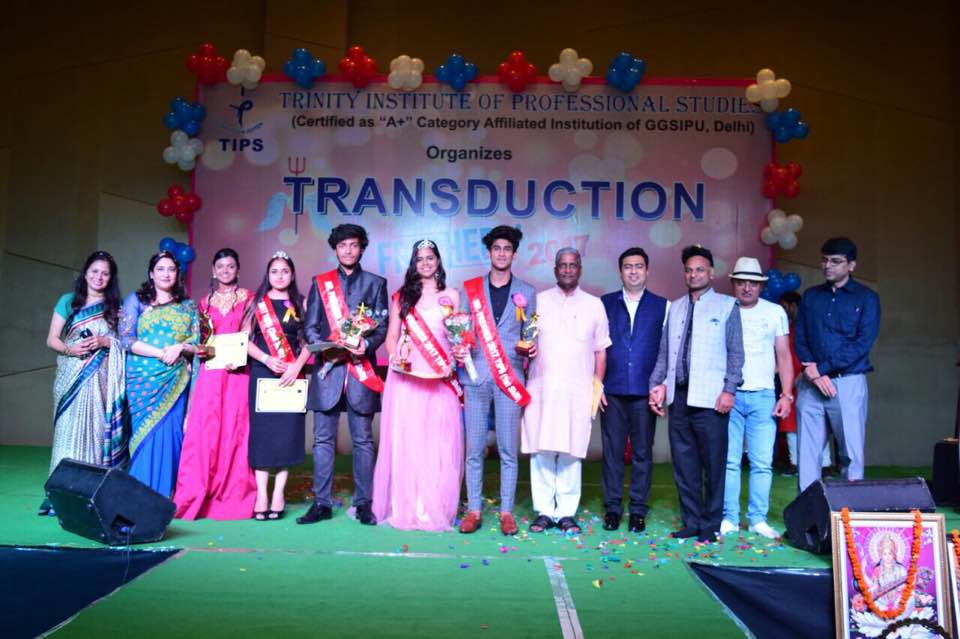 Trinity Institute of Professional Studies, under the umbrella of Kamal Education and Welfare Society, affiliated to GGSIPU, organised TRANSDUCTION - Fresher's Party on September 9, 2017 at Vivanta By Taj, Dwarka Sec-21, warmly welcoming the new students to the Trinity family. Presence of Mr. Jagdish Mittal (Rashtriya Adhyaksh, Rashtriya Kavi Sangam) as Special Guest, and, Mr. Rashik Gupta (Hasya Kavi) and Mrs. Baljeet Kaur Tanha (Hasya Kaviyitri) as Guests of Honour added stars to the event.
The programme began with the "Lighting of Lamp" by Dr. R.K. Tandon, Chairman TIPS, Mrs. Reema Tandon, Vice-Chairperson, Dr. Vikas Rao Vadi, Director, along with the chief guest and guests of honour of the event. It was followed by Saraswati Vandana. Dr. R K Tandon welcomed the freshers and congratulated them on being a part of the TIPS family and also motivated them to scale new heights in life. Then came the most exciting Fresher Pageant contest, where freshers, dressed as per the 'Angel & Devil' theme, walked the ramp and mesmerised one and all by their appearance and with the Talent and Q & A round.
The aura was filled with music, fun and humour by the cultural performances of the students and the poetic fervour added by the Guests of Honour, Mr. Rashik Gupta and Mrs. Baljeet Kaur Tanha. Display of talent by the freshers in the Most Promising Talent of the year 2017-18 also made everyone applaud in appreciation.
The heartbeats kept raging till the moment of the announcement of the Mr and Ms Fresher arrived. Arnav Kohli (BJMC) and Shivani Sehgal (BCA) were declared Mr. and Ms. Fresher respectively for the first shift while Shivam Verma (BJMC) and Rini D. Singh (B.Com) became Mr. and Ms. Fresher for the second shift. Shyama (BCA) won the award for the Most Promising Talent of the year 2017-18 for displaying her singing and dancing talent.
Dr. Vikas Rao Vadi, Director, TIPS, extended the Vote of Thanks to one and all present in the event, ending the ceremony with an inspirational quote for the aspiring students. Guests, Faculty members and students then proceeded for lunch. The students then set their feet on the dance floor and grooved to the musical tunes and beats.