Guest Lecture
Guest Lecture
A Guest Lecture on Constitution Day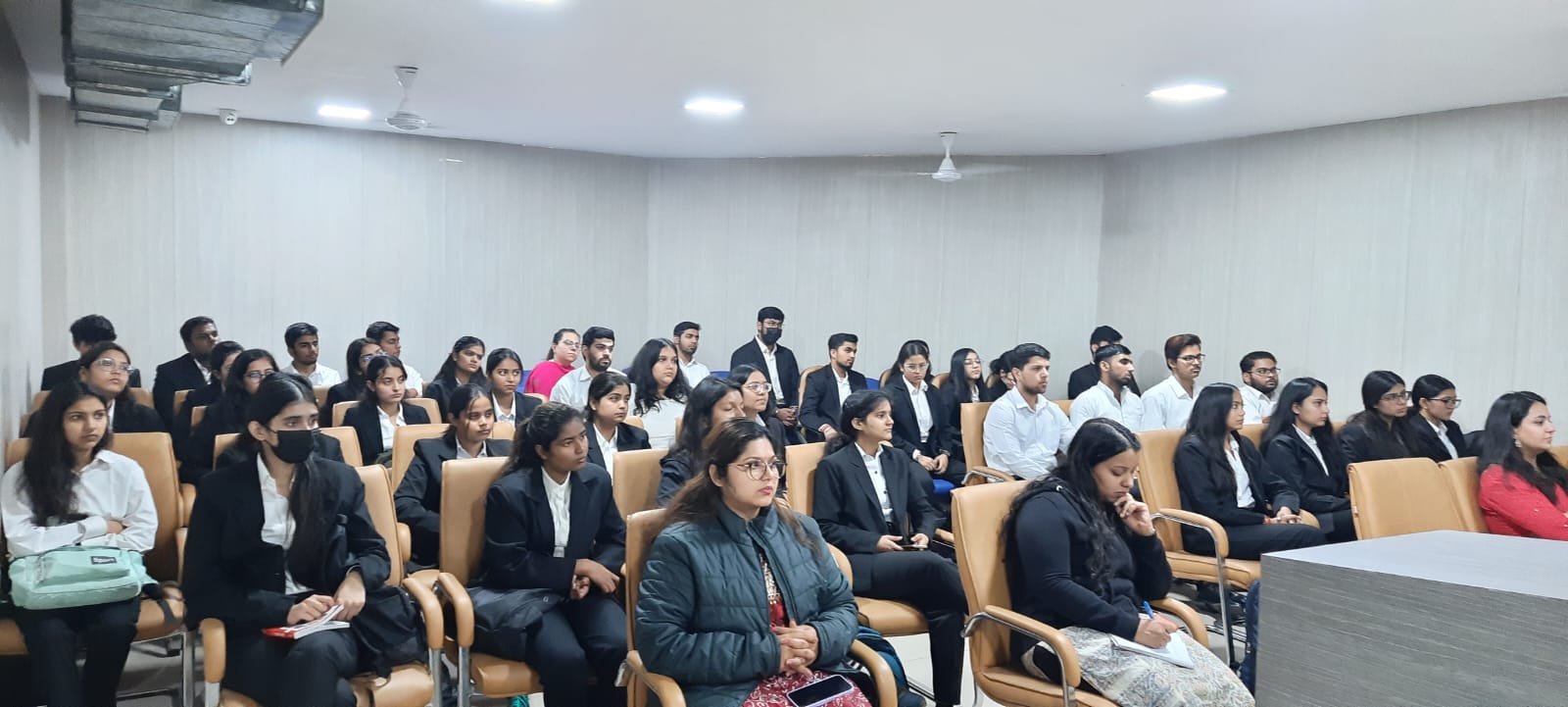 The Law Department of Trinity Institute of Professional Studies, organised a guest lecture on Constitution Day on 26th November 2022 which is celebrated as constitution day. Mr Lalit Ajmani is an experienced advocate, and the Founding and Managing Partner of 'Ajmani & Law Partners' - a full-service law firm. He spoke on the topic of Preamble and the concept of sovereignty, socialist, secularism, Democratic & Republic. He also dealt with the recent cases which are of the constitutional importance including the concept of secularism, sedition, Domestic Violence Act etc. Sir have also discussed with the students the challenges which is faced by first generation lawyer and how the barrier of the same is removed. The event was a major success which could not have been possible without the guidance of Dr. Shashi Bala.
Guest lecture on Marketing Trends 2022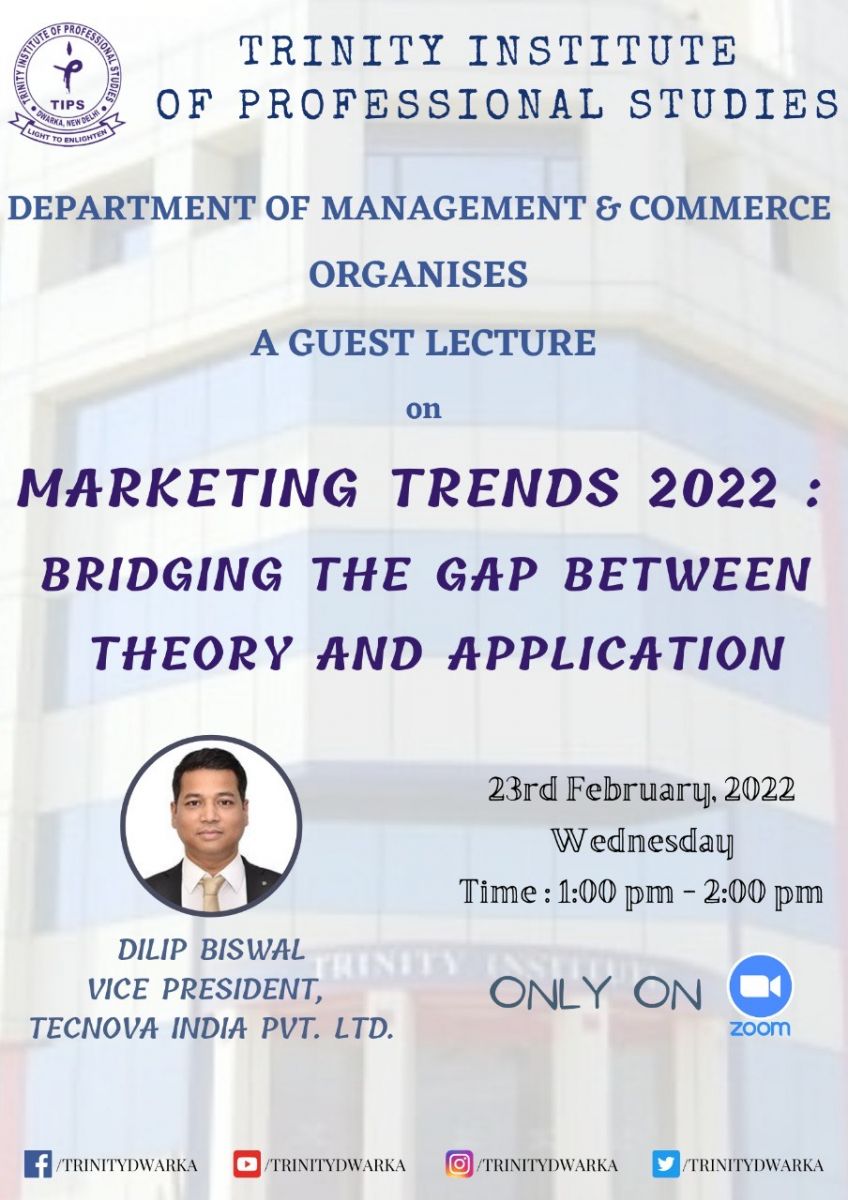 The Management & Commerce Department of Trinity Institute of Professional Studies, under the aegis of IQAC, organised a guest lecture on Marketing Trends 2022: Bridging the Gap between Theory and practical Applications on 23rd February 2022 by Mr. Dilip Biswal, Vice President, Tecnova India Pvt. Ltd, Gurgaon, for the 2nd Year students of BBA and B.com(H). The session was attended by 218 students via hybrid mode.
The resource person pointed out the marketing trends of the ever-changing business environment with his vast experience in the global business environment. His insights helped the students to understand the complexity of the marketing world.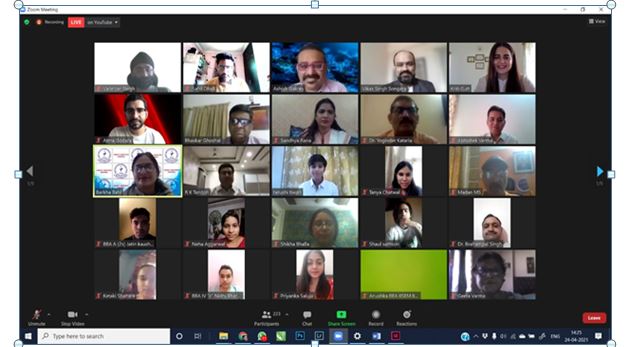 Trinity Institute of Professional Studies in association with HR SHAPERS organized HR CONCLAVE on Emerging HR Challenges during Covid times on April 24 ,2021 through Zoom Meeting. The Conclave was attended by 408 participants. The HR Conclave was organized by the organizing team of the Institute and was moderated by Mr. Ashish Gakrey, Founder, HR Shapers. It was designed in such a manner that there were two panels of eminent speakers to elaborate on various emerging HR Challenges. The esteemed speakers shared their experiences and insights on this theme. The speakers talked about the various facets of the HR world. All in all, the HR Conclave was an enriching workshop for the audience. It was enlightening to listen and gain knowledge from a lot of distinguished speakers from varied Industries.
Learning Outcome: The participants learnt about the insights on the shifts envisaged in the future of Lives, Jobs and Workplaces. They also learnt that it has become imperative for organizations to indulge in effective employee engagement and employee experience in this new normal followed by recognition factors. The organizations have realized that it is important to take measures to take care of mental health, well beings and wellness of employees and they are taking concrete measures to maintain work life balance, health and safety of employees during Covid 19 pandemic.
Workshop on Digital Marketing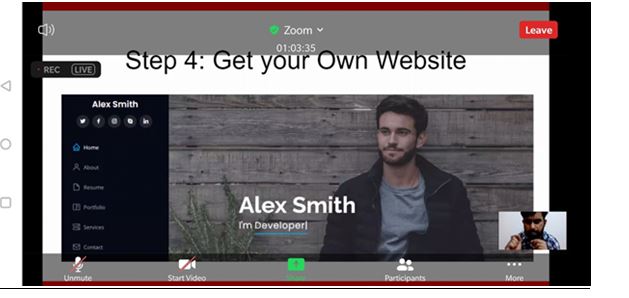 Trinity Institute of Professional Studies organized a workshop on Digital Marketing on 17th April 2021. The speaker for the workshop was Mr. Tarun Goel, Founder, Codes Black Services. It was attended by 177 participants.The speaker initiated the workshop by introducing the fundamentals of Digital Marketing and how it can be pursued as a career. Further, he went on to elaborate on concepts such as Search engine marketing, Website Marketing, Application Marketing, Video Marketing, Email Marketing, Audio Marketing, Content Marketing, etc.
All in all, it was an enriching experience for the audience. They learnt about the various facets of Digital Marketing.
Learning Outcomes: The participants learnt that digital marketing has gained immense importance in today's world. It has become imperative for business organizations to learn digital marketing and incorporate it in their operations in order to do online research and research on online markets as well as identifying, assessing and evaluating digital market opportunities. Moreover, Digital Marketing offers a good career option to today's youth as it gives varied elements of flexibility, creativity, learning and high incomes to them.
Session On "Resume Building Skills"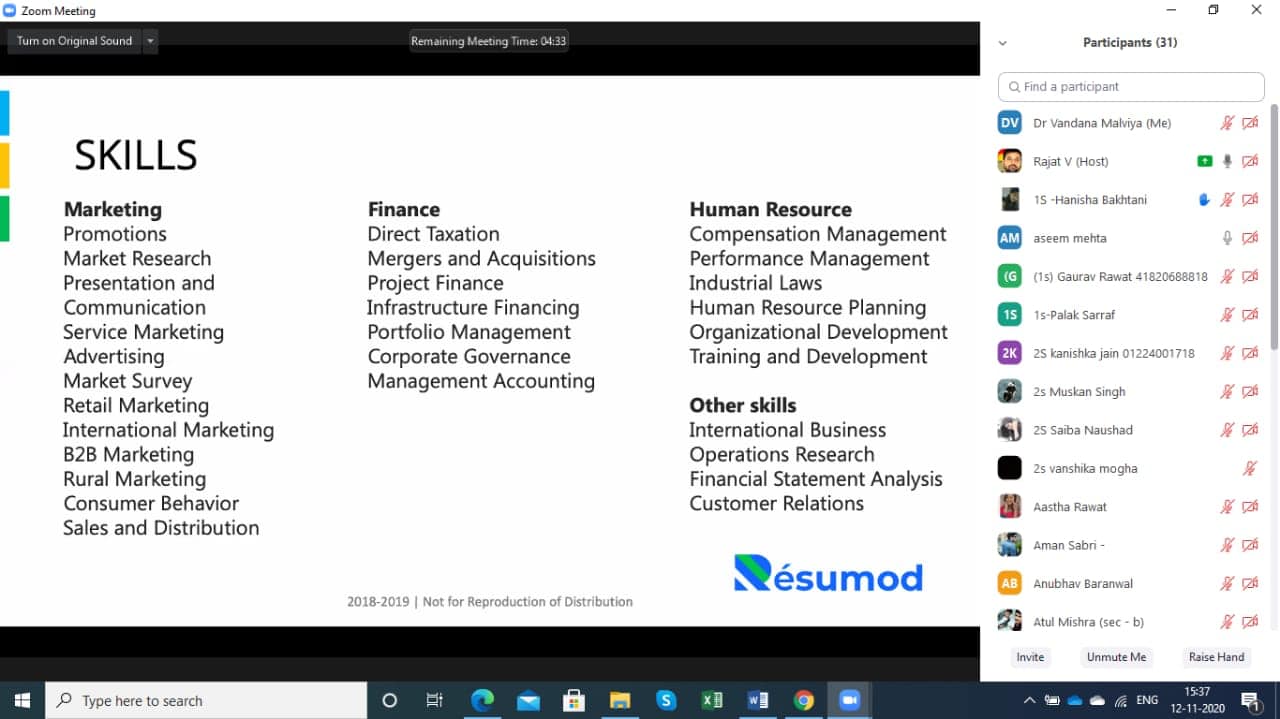 A career-oriented session on "resume building skills" was conducted for students of trinity institute of professional Studies on 12th November 2020 by Mr. Rajat Vasishta, a start-up professional from RESUMOD. Mr. Vasishta guided students on how to write an effective resume and also emphasized different skill sets.
Learning Outcome:
Students get to understand the intricacies of resume building during their formidable years of college. They also learnt the technique of doing so through the session.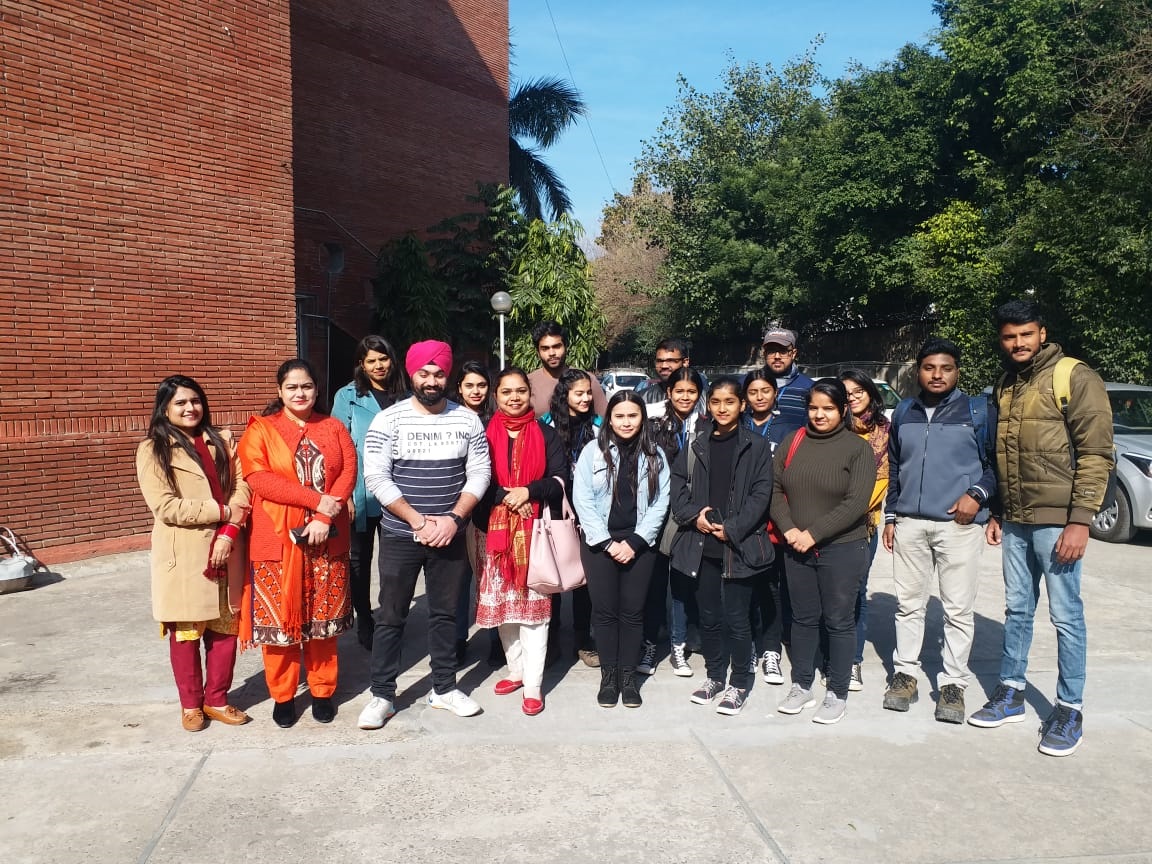 25 students of BBA and B.com participated in HR Conclave 2020 held at Apeejay School of Management on 24th January 2020.
Students had the great opportunity to learn from eminent speakers from the industry like
Mr. Shubham Tripathi, Campus Lead India Genpact.

Mr. Raj Kumar, Director HR, Golden Tobacco.

Ms. Monica Marwah, Uni Hiring Leader, NCR Corporations.

Mr. Vikas Dua, Chief HR Mentor, Attyan.

Ms. Simi, VP HR, DS Group.

Ms. Runa Maitra, Director, People Talent International.

Mr. Manoj Kumar, Head HR, Indiannica Learning.
Learning Outcome:
It was a Great platform for students to learn about the most recent trends in the HR discipline.
BUILDING BLOCKS OF PROGRAMMING
CS & IT Department organized a Guest lecture online, under the aegis of IQAC on Building Blocks of Programming on 8th February, 2021 from 11:00 AM to 12:30 PM. The programme commenced with a welcome address by Director Maám to Prof. (Dr.) R. Rama Kishore, Professor, University School of Information, Communication & Technology, GGSIPU.The session commenced with the generation of the programming followed by programming paradigms, developmental steps of programming, role of data structure and how they are useful in optimization.Later the speaker highlighted about various approaches to write an algorithm. The session was very informative, the speaker's knowledge made the students enthralled and students asked questions to sort out the curiosity.The session ended with a formal vote of thanks by Ms. Ritika Kapoor.
The guest lecture turned out to be highly enriching.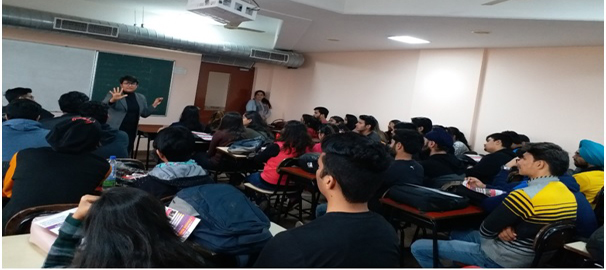 LINKEDIN NETWORKING DURING COLLEGE
Trinity Institute of Professional Studies conducted a guest lecture on "LinkedIn Networking during college" on 23rd November 2020. Mr Shivam Ahuja, Founder of Skill Circle talked about ways to spruce linkedin profile, connecting with people, posting engaging content, and also encouraged students to join various professional groups.



GUEST LECTURE ON 'CYBER SAFETY AND PRIVACY PROTECTION ON SOCIAL NETWORKS' ON 5TH NOVEMBER,2020 BY DR. NEHA BAJPAI

Trinity Institute of Professional Studies, Dwarka organized a Guest lecture on 5th November, Thursday from 3pm to 4pm; under the aegis of IQAC on 'Cyber Safety and Privacy Protection on Social Networks'. The lecture was conducted in a virtual mode using Zoom Video Conferencing and it was live on Facebook too. The program commenced by welcoming the participants and speaker, Dr. Neha Bajpai, Principal Technical officer, CDAC, Noida. She has twenty years of teaching and project implementation experience. It was very interactive session, she highlighted how cyber safety and privacy protection is getting important on social networks these days. She also discussed about surface web, deep web and dark web web. The guest lecture was highly informative as Dr. Bajpai shed light on various tools and sites available which can check authenticity of the website, email, URL, message, picture. She also covered about various types of attacks such as phishing, vishing, smishing etc. The session was not only attended by BCA department students and faculty members, but was also attended by outside participants too. There was a Question and Answer session, which was very enthusiastically taken by the speaker, Dr. Neha. Later, Dr. Mukta Sharma, HOD- BCA department gave a formal vote of Thanks and session ended with a group picture.

GUEST LECTURE ON "CAREERS IN VUCA WORLD" ON 6TH NOVEMBER, 2020 BY DR ABHIJIT NAIR.

We live in a world that's constantly changing, becoming more unstable each day, where changes big and small are becoming more unpredictable – and they're getting more and more dramatic and happening faster and faster. As events unfold in completely unexpected ways, it's becoming impossible to determine cause and effect. Trinity Institute of Professional Studies organized a guest lecture on "Careers in VUCA world" on 6th November. Session was taken by Dr Abhijit Nair.
Dr. Nair received his early education in India and traveled to most parts of Europe, Africa, Asia and the Americas through his association with the National Geographic Society. In between, he completed his post graduate degree and Doctorate in English Literature and Language from Canterbury, University Kent in UK. He carries with him seventeen years of experience in the media world - traveling, writing and editing for varied magazines like National Geographic, Open, Prospect, Face etc.
GUEST LECTURE ON THE TOPIC "FUTURE CAREERS" BY DR SUNITA KONWAR WAS HELD ON 20TH FEBRUARY, 2020

Guest Lecture on the topic "Future Careers" by Dr Sunita Konwar was held on 20th February, 2019 for final year students of BBA(G) and B.Com(H) of Trinity. Dr Sunita has 20 years of rich experience in education and industry, she has been associated with many prominent universities as a Consultant. 90 students participated in the session and clarified their doubts related to their future career choices. Dr Sunita helped students to identify their potential areas and also to know their weak areas, so that they can work on their weaknesses. She urged students to explore their hidden talents and not to compare themselves with others. Interest test was conducted by the students and analysis was done by Dr Konwar.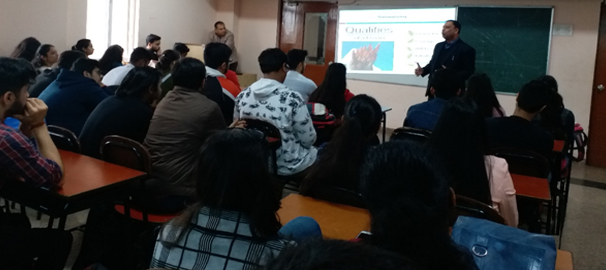 LIFE SKILL SESSION ON MANAGING STRESS & NEGATIVITY HELD FOR B.COM (H) AND BBA (G) STUDENTS OF TRINITY ON 11TH JANUARY, 2019

Life skill session on Managing Stress & Negativity held for B.Com (H) and BBA (G) students of Trinity on 11th January, 2019. Session was taken by Mr Anindya, FedEx Trainer and Mr AtulBhave, working in the International Division of Parliament of India.They shared their knowledge and life experience with students on how to manage stress in life and ways to handle negativity. They taught students that positive thinking doesn't mean that you keep your head in the sand and ignore life's less pleasant situations but positive thinking just means that you approach unpleasantness in a more positive and productive way, think that the best is yet to happen, and face life with utmost positivity.Positivity and effective management of stress not only helps in personal life but also professional life. Students enjoyed the session and it was great learning for students to hear from such learned speakers.

EXPERT TALK ON THE TOPIC "MATRILINEAL TRIBES OF MEGHALAYA: A CASE STUDY OF THE KHASIS" BY Dr. DEEPSHIKHA AGARWAL

The Law Department of Trinity Institute of Professional Studies (TIPS) organized a guest lecture on –"Matrilineal tribes of Meghalaya: A case study of the Khasis" on 1st Feb.2019. The guest speaker was Dr .Deepshikha Agarwal, Associate Professor, University School of Law and Legal Studies of Guru Gobind Singh Indraprasth University, Delhi. Dr. Deepshikha Agarwal started her lecture about Matrilineal communities in Meghalaya and emphasized the points like:-Importance of sociology in relation to law, kinshipstudies, concept ofdescent,matrilineal communities-Meghalaya state in relation to matrilineal communities , judicial system in Khasi district(Meghalaya),Matrilineal but not Matriarchal Communities, Khasis- Position of women, Social organization-['kur'-largest matrilineal unit],Descent among Khasis ,Political states-Patriarchal in nature, Changes in contemporary Khasi society and challenges to matrilineal and traditional system. The lecture was received with admiration by the students and they also found it easy to understand and grasp all the points as slides were appropriate too. At the end, the session became more interactive and informative as some of the curious students clarified their doubts by asking some important questions relevant to the topic of the session.The event was attended by faculties and students of 2nd semester, BALLB.


ONE DAY WORKSHOP ON REGISTRATION AND CONSEQUENCES OF NON REGISTRATION OF PARTNERSHIP FIRMS AND DRAFTING OF PARTNERSHIP DEEDS

School of Law and Legal Studies of Trinity Institute of Professional Studies (TIPS), Dwarka affiliated to Guru Gobind Singh Indraprastha University organized an Expert Talk on the topic - Registration and the Consequences of Non Registration of Partnership Firms and Drafting of Partnership Deeds for the students of 2nd Semester. The sessions were taken by Mr. Utkarsh Yadav, Advocate and Prof.(Dr.)K.K. Geetha, Director, Law. Mr. Yadav gave a brief introduction about the Partnership Act of 1932. He explained about Registration and Non Registration of the firms. He further mentioned Section 58 and 59 of Indian Partnership Act, 1932 which deals with the registration of a firm. He also briefed about Section 69, which contains the provision describing the effects of non-registration of a partnership firm. He emphasized on theoretical and conceptual understanding of law, which can be done through reading judgments and critically analyzing the case. The technical session for drafting of Partnership Deed was conducted by Prof. (Dr.)K.K. Geetha. She discussed in detail the essential parts of Partnership Deed and how to draft it. An interaction session was conducted and the guests answered all the queries of the audience. In this interaction session Mr.Utkarsh Yadav discussed about how to go through the judgments made by Supreme Court. The whole programme was highly enriching and the session helped in increasing the knowledgenot only about the topicbut also about studying law in general.
GUEST LECTURE ON "CAREERS IN VUCA WORLD
Trinity Institute of Professional Studies organized a guest lecture on "Careers in VUCA world" on 6th November 2020. The speaker was DrAbhijit Nair, Associate Professor. Mr Nair motivated students to venture out and explore new opportunities. Students from all the programmes joined the lecture in high numbers.
Learning outcome: Students learned about the challenges of VUCA world order and how it presents itself with new kinds of career opportunities.
Guest lecture on Equity Crowdfunding: Funding startups in the Internet Age
Guest lecture was conducted today at TIPS for students of BBA, BCA, BA(JMC), BA.LLB and B.com on 29th January 2020 on the topic "Equity Crowdfunding: Funding startups in the internet Age". Session was conducted by Prof Abhishek Mishra. An alumnus of National University of Singapore, having experience 7 years in Industry and Academics. His area of interest includes Business & Commercial Laws and International Trade Law.
Learning outcome: Students learnt about the challenges of getting funded for startups and how to get them crowd funded.
Guest Lecture on "Branding Yourself
Guest lecture was conducted today at TIPS on 21st January 2020 on "Branding Yourself" for the students of BBA, BA(JMC) and B.com. 80 students participated in the session. Speaker was Dr Sunita Konwar.
She has over 30 years of experience in teaching. She completed her PhD in Economics from Mumbai University and thereafter headed the Department of Economics at a college in Mumbai University. She went on to work as Dean PGDM with IILM-Management Institute at Lodhi Road. One of her many distinguished accolades includes researching and publishing papers globally in the field of Public Finance, laying emphasis on Internal Public Debt.
Learning Outcome: In her session , she focused on 'Building the Brand called "You" . She narrated real life stories of entrepreneurs and motivated them to create their own personal branding. She also explained various entrepreneurial skills required for start up .
Career Counselling Session
A Career Counselling session was conducted today at TIPS for students of BBA, BCA and B.com on 20th January. Speaker was Mr Kumar Abhishek Pathak.
Mr. Kumar Abhishek Pathak is a strategic thinker, mentor and a motivational speaker. He is a Manufacturing Engineer from National Institute of Foundry and Forge Technology and has worked with Ashok Leyland for a short stint before pursuing his PGDM from IIM-Shillong. With a major in marketing from founder batch of IIM Shillong, Mr. Abhishek was instrumental in starting IIM Shillong Golf cup which has now become the biggest industry-student collaborative event in India.
Learning Outcome:
Students learned to develop an aptitude towards a focus goal in career planning and making the right decisions.