Training & Placement Cell
Training & Placement Cell
The Placement Cell of Trinity Institute of Professional Studies (TIPS) Dwarka, New Delhi, NCR consists of a Placement Committee with a Placement Coordinator and faculty members from each discipline, viz. BA(JMC), BBA, BCA, B.COM(H) and BA.LLB who counsel the students to make them industry-ready professionals. The Training and Placement Cell has become more vibrant under the supervision of the Placement Coordinator who ensures that students secure placements in their dream companies and acquire the necessary skills and attributes to build a global career.
In addition, at the end of each academic year, our students undertake internships to gain practical, hands-on experience to keep pace with real-world corporate tasks, which extends the academic learning experience to make the students job-ready. During their internships, students get the opportunity to interact with professionals in their 1eld, which helps them build contacts and learn about new industry trends.
The Director of TIPS continuously guides the students through various sessions to empower them for a career in the corporate sector and to train them to work in a team. These sessions prepare students for the challenges of the corporate world and increase their chances of being selected by top companies. TIPS' strong corporate alliances give its students an edge. They are given the opportunity to attend expert guest lectures and to go on industry visits to explore new avenues during their academic journey.
TIPS students have consistently been placed in prestigious organisations like IBM, Wipro, Infosys, Capgemini, Lenskart, etc. The TIPS Placement Coordinator also guides the students in career planning, resume writing, and test preparation and conducts placement drives.

TIPS is the Top Best GGSIPU College for Placements in NCR, especially in West Delhi as around 126 companies have visited in the year 2022-23.
BBA, B.COM(H) students have been placed in companies like Kotak Mahindra, Lenskart, Bajaj Allianze, ICICI Prudential etc.

BCA students have been placed in companies like Wipro, QSpiders, Chegg etc.

BA(JMC) students have been placed with Times of India, Hindustan Times, Anytime Investment, Shuraa Management.
Objectives
Preparing TIPS student pro1les and a student database as per the demographics

Preparing a corporate database of potential and existing recruiters.

Screening students based on their potential and mapping their competencies.

Transforming the students according to the requirements of the corporate world.

Conducting career counseling and personality development sessions for students.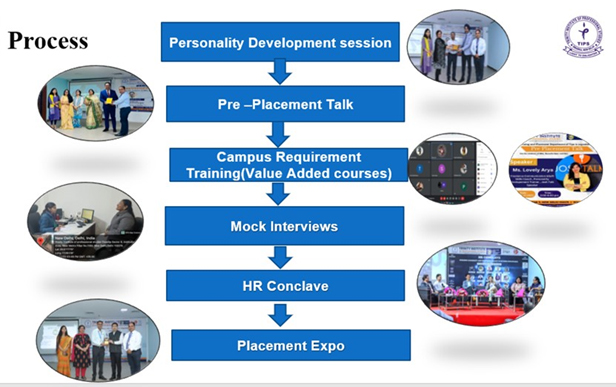 Contact
| | |
| --- | --- |
| Do revert for any query or suggestions at | placements@tips.edu.in |
| Contact us | tips@tips.edu.in |
| Contact | 011-45636921/22/23 |