Alumni Interaction
Alumni Interaction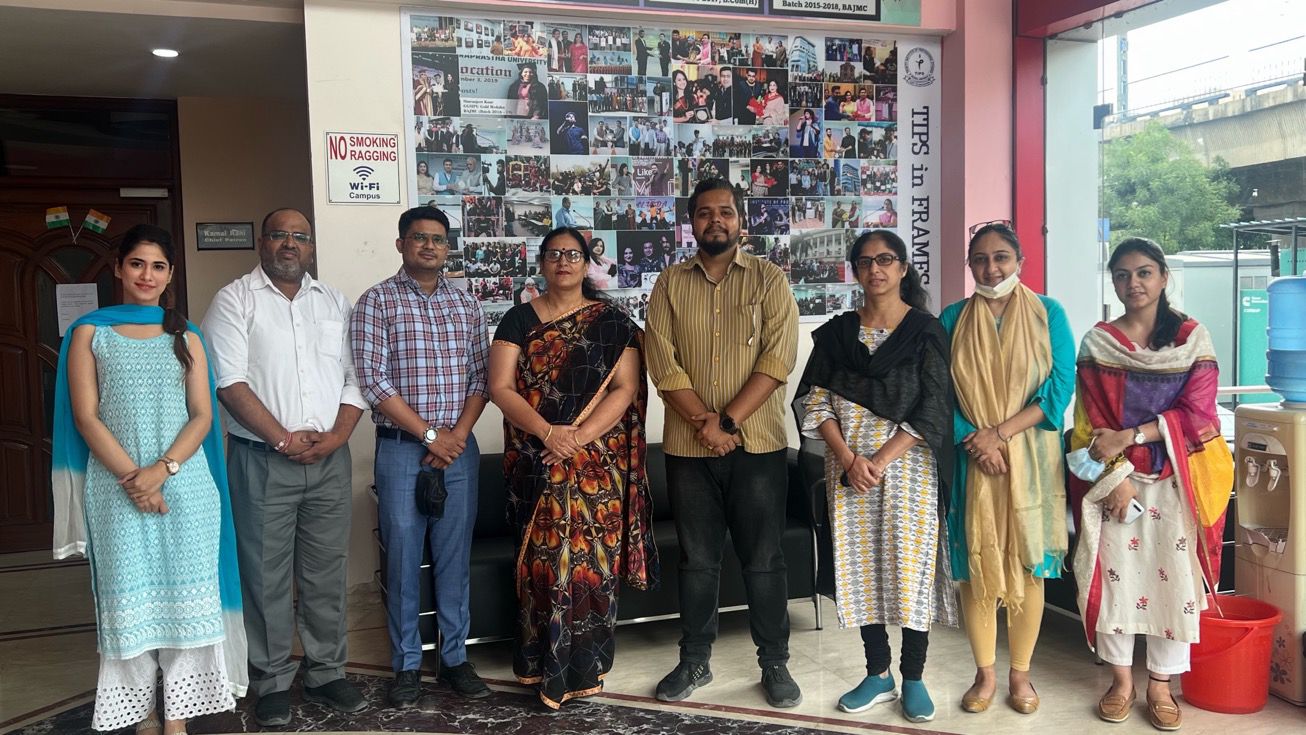 ALUMNI MENTORING SESSION on Job/Internship Avenues: Banking & Insurance Sector
Department of Management and Commerce, Trinity Institute of Professional Studies(TIPS), Dwarka organized an ALUMNI MENTORING SESSION on Job/Internship Avenues: Banking & Insurance Sector for the first year students of BBA & B.Com on 2nd June'2022, 12:30PM onwards. It is of prime importance for the undergraduate students to be aware about various opportunities awaiting them post graduation. And who better can guide and share the experience of walking a road to success and understand and exhibit the behavior necessary to achieve their career goals, than the Alumni of TIPS itself. Mr. ALOK GHOSH Alumni BBA (BATCH 2009-2012) currently working as Senior Analyst, BARCLAYS was the key speaker for the session. He delivered a wonderful session, giving our students insights on opportunities in Banking and Insurance sector.He was further felicitated by Dr. Deepali Saluja, HOD, Management and Commerce Department. The event concluded with the vote of thanks by Ms. Priyanka Saluja.
Alumni Mentoring Session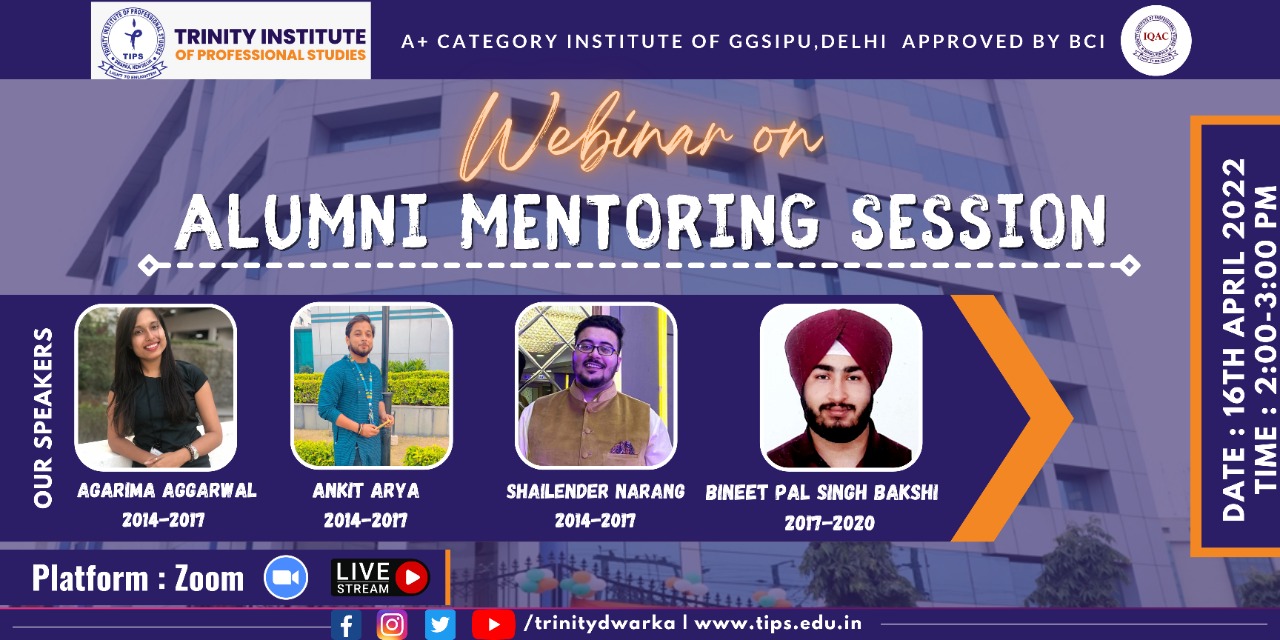 The CS & IT department under the aegis of IQAC cell, Trinity Institute of Professional Studies, organized an Alumni Mentoring session on 16th April 2022 at 2:00PM for the students of 4th semester students. The session took off with the welcome address by Dr. Mukta Sharma, HoD-CS & IT Department, TIPS. The session was conducted on a hybrid mode; four alumni, viz. Shailender Narang, Agrima Aggarwal & Ankit Arya all from the batch 2014-17 and Bineet Pal Singh Bakshi of batch 2017-20 shared, at length, about their experiences they underwent while shaping their career path. In addition to suggesting scopes and different domains available after completion of graduation, the present students were given tips on how to prepare for interviews, placements, and many other competitive examination, etc. There was a question answering session towards the end of the session, after which the session was winded up by the vote of thanks by Ms. Ritika Kapoor, Asstt. Prof. TIPS.
ALUMNI COUNSELLING SESSION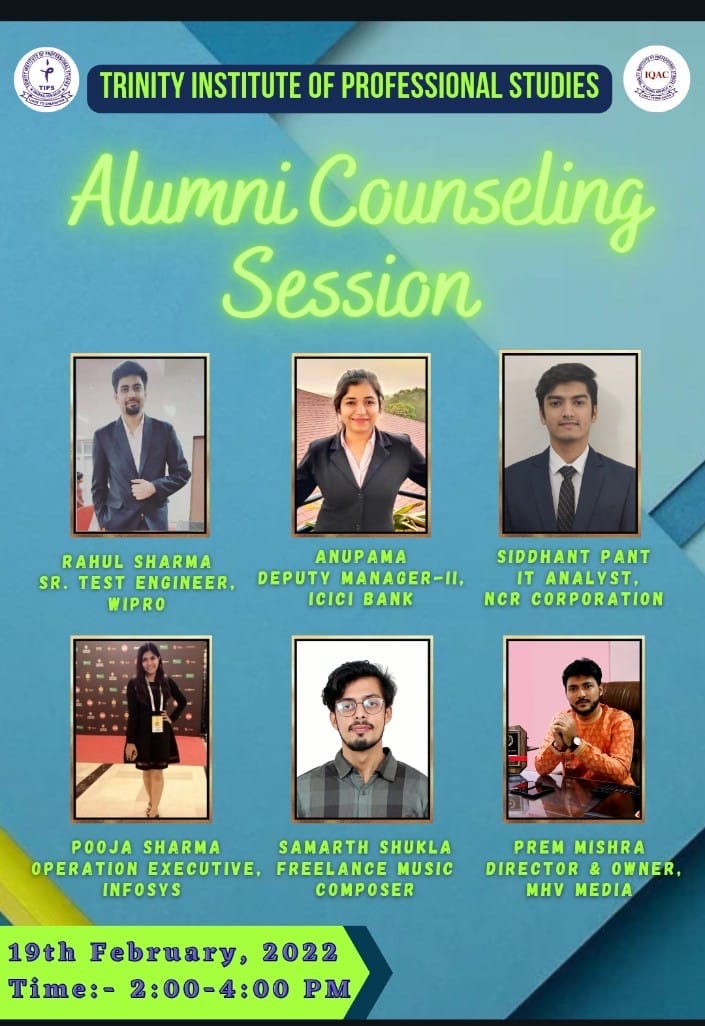 The Computer Science and Information Technology Department of Trinity Institute of Professional Studies has scheduled a Counselling session with Alumni for BCA students on February 19, 2022, from 2.00 PM to 4.00 PM.
The session was graced by our six Alumni Rahul Sharma (2013-16), Anupama (2016-19), Siddhant Pant (2017-20), Pooja Sharma (2017-20), Prem Kumar Mishra (2017-20), and Samarth Shukla (2017-20). The session commenced with a welcome address by the Director. Later the moderator of the event, Ms. Ritika Kapoor asked the Alumni to talk about their odyssey from a college graduate to the outside world.
Rahul Sharma and Pooja Sharma mentored the students about pursuing a job right after BCA and its benefits. Anupama and Siddhant apprised the students about pursuing higher education and then pursue a job. Prem Kumar Mishra and Samarth Shukla counselled the students about venturing a startup and its benefits.
The speakers discussed their personal experiences while emphasizing and covering almost all important aspects (starting from internship, minor, major projects to creating resume, LinkedIn profile to prepare for the interviews) to be considered before entering the corporate sector. They informed students about the numerous positions and prospects available after completing the BCA, as well as startup and venture opportunities.
The session ended with a formal vote of thanks addressed by Dr. Mukta Sharma, HOD-CS & IT. The session was in blended mode which was attended by more than 100 students of BCA, 1st shift and offline by more than 60 students of BCA, 2nd Shift. The panel member joined virtually but they could see the class room students which gave them a feeling of addressing them live. It was a fruitful session
Learning Outcome: The session was very insightful and was much appreciated by the current batch students as they were mentored by alumni on how to be successful in their respective fields of higher education, job and startup. The alumni handled almost all the concerns and queries to the best of their abilities.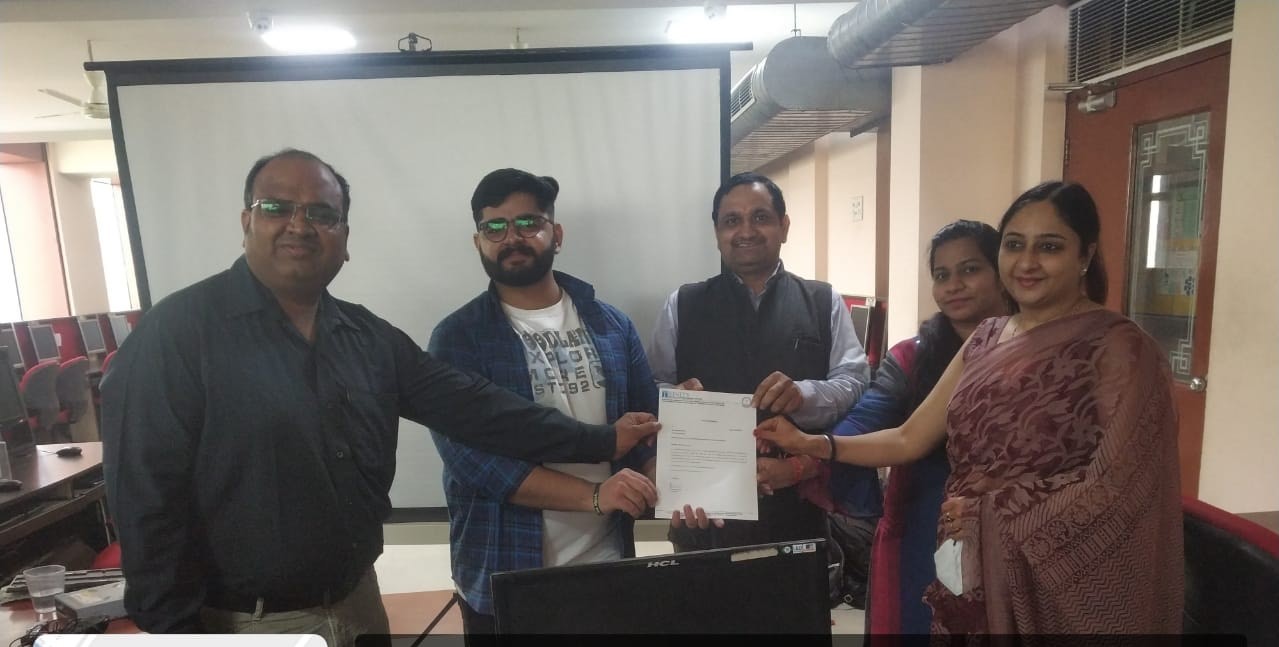 CS & IT Department organized an Online workshop by our Alumni, Mr. Abhishek Madan, BCA (2017-2020) batch on 20th March 2020. He is currently associated with Rackspace, as a cloud engineer. The workshop was conducted on a very important topic "Hardware and Networking" from 12:00 PM to 2:00 PM. The students learned the Hardware Intricacies and appreciated the session a lot.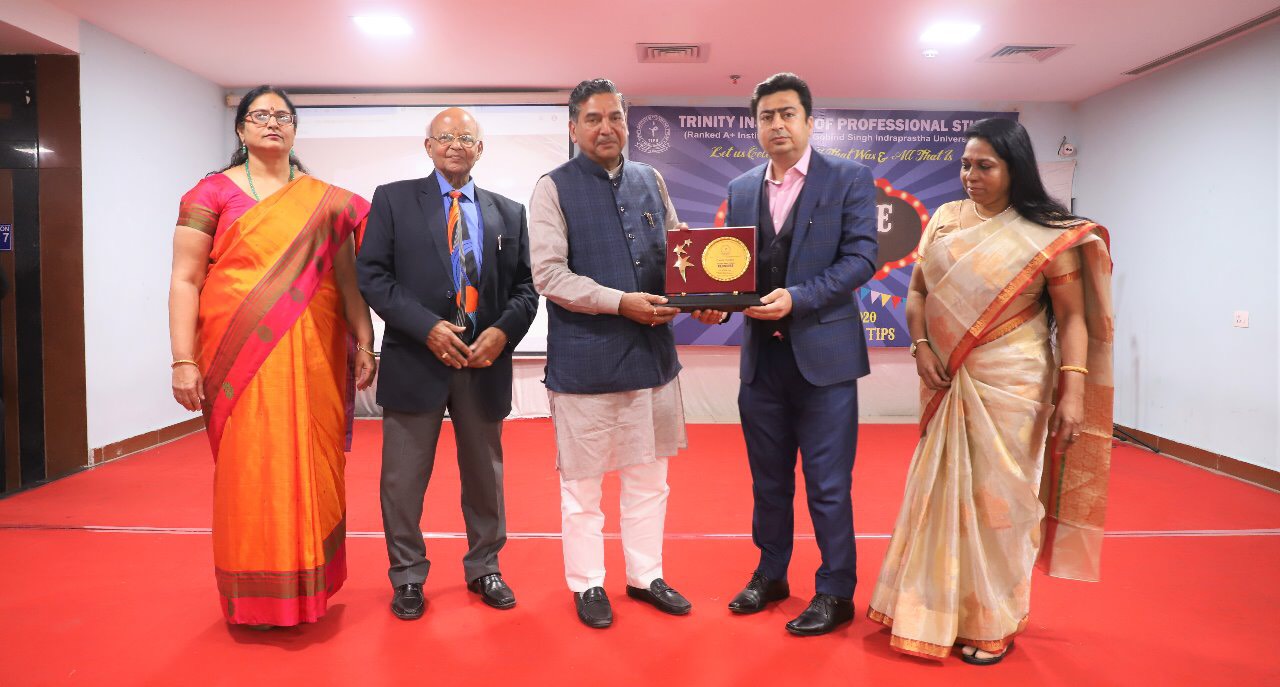 REKINDLING MEMORIES- Trinity Institute of Professional Studies organised alumni meet, 'Reunirse' 2020 with great pomp. With a line up of thunderous events, the meet turned out to be highly entertaining and also touched an emotional chord by making everyone nostalgic. The event concluded on a happy note with games, interaction and dancing with great gaiety.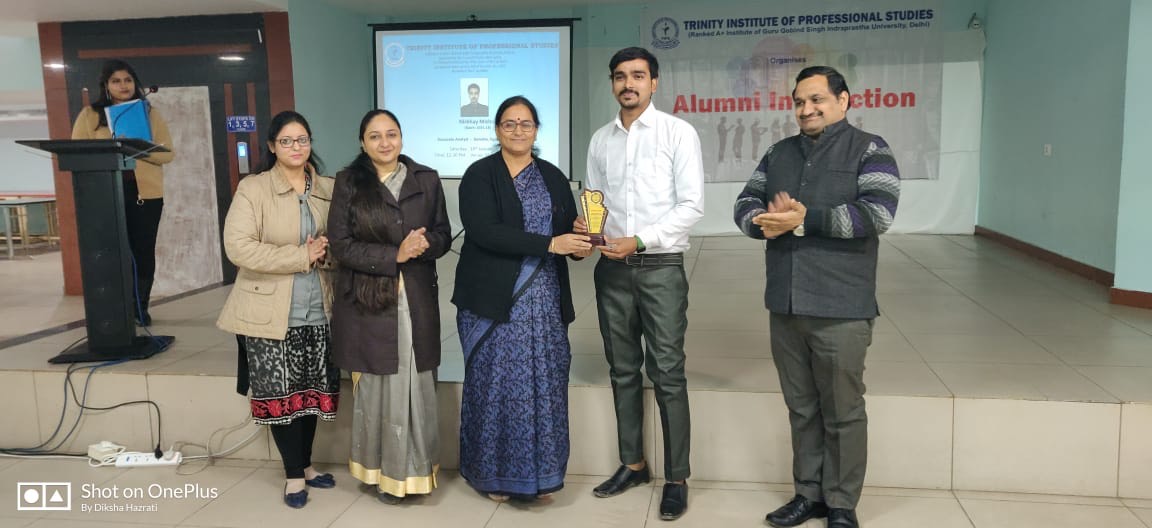 Trinity Institute of Professional Studies invited its alumnus Mr. Nirbhay Mishra from BCA department (2015-2018) batch to the campus for an alumni interaction with the BCA students. Mr. Nirbhay is currently working as an Associate Analyst at Deloitte, Hyderabad. He shared his experiences, highlighted upon the current technologies he is working on for developing applications like Python, automation, UI path, Java script etc. He enlightened the students with RPA (Robotic Process Automation). He encouraged the students to go for UI path certification, which is free of cost and enhances the chances of employability. He shared his own interview experience, number of rounds, minimum salary package. He motivated the students to explore new technologies like HTML5, java script, CSS etc.He concluded the session emphasizing on working hard and being patient which will lead to success gradually. The session was graced by Dr. Barkha Bahl, Director TIPS and all the faculty members of CS and IT department. After the session Dr. Mukta Sharma, HOD-CS/IT asked him for the campus placements in Deloitte. For which Mr. Nirbhay assured that he can call the students for interview in Deloitte, Hyderabad. She also proposed him to be a part of incubation cell and work as a corporate mentor for her students. Which he readily accepted and was looking eager to guide and mentor the students.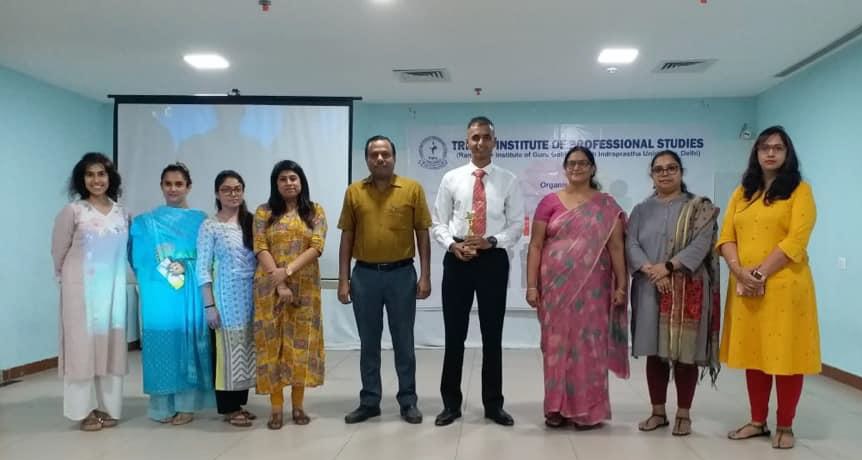 Trinity Institute of Professional Studies invited its alumnus Lt. Neeraj Chaudhary from the BBA class of 2016 on 21st September, 2019 to the campus for an alumni interaction with the students of BBA and B.Com(Hons). Lt. Neeraj Chaudhary is a commissioned officer, a Troop leader of the Armoured Regiment of the Indian Army. Lt. Neeraj Chaudhary comes from an army background as his father was in the Indian Air Force. He spoke about the role of discipline and values in his upbringing. Lt. Neeraj Chaudhary shared how he learnt from his failures and overcame all his challenges with a positive mindset to conquer his goals. He spoke about the importance of analyzing one's failures and breaking it down into a step by step action plan to achieve success. The session was graced by The Additional Director, Dr. Barkha Bahl and the faculty of Management. Lt. Neeraj Chaudhary's inspiring stories left the students and the faculty captivated alike. At the end of the session, students proceeded to the stage for a group photo as a way to extend their gratitude. He also shared his mail id with students and agreed to mentor students.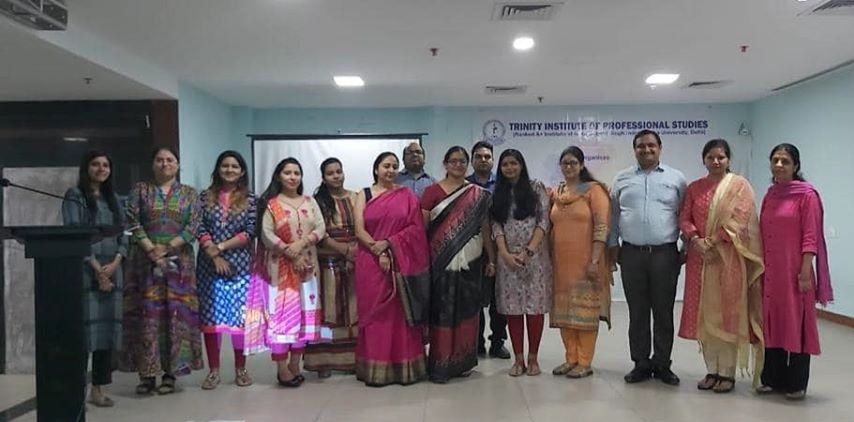 Trinity Institute of Professional Studies invited its alumna Ms.Manisha Sharma from BCA, batch 2009-2012 on 1st November, 2019 to the campus for an Alumni Interaction with the students of BCA on 1st November 2019. She shared her experiences at Accenture with fellow students, highlighted upon the current interest of Accenture for developing applications on Python, Artificial Intelligence, Java Script, etc. She also explained Spring Rest with an example. She even enlightened the students with the current market scenario, she talked about the job opportunities in IT sector she emphasized on how Business Analysts are in huge demand. She brought light to the utmost important trait i.e good communication skills for a job and the need for interacting with confidence. She emphasized the students to work on logical and aptitude reasoning to qualify the interviews.She concluded the session by addressing the queries of the students. The session was graced by Dr.BarkhaBahl, Director TIPS and all faculty members of CS and IT department.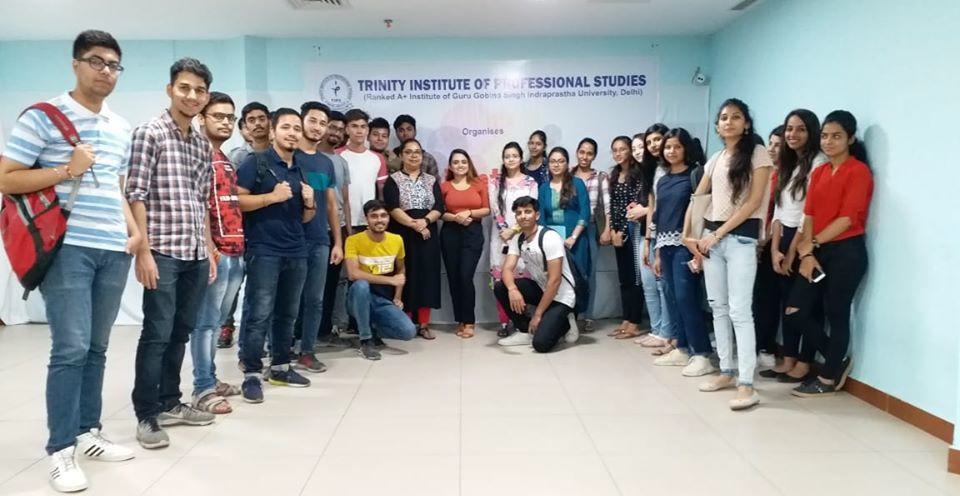 Trinity Institute of Professional Studies invited their successful alumna Lakshya Wadhwa from the batch of 2017 on 27th August, 2019 for a formal interaction with the final year students of BBA and B.Com(H). Miss Lakshya Wadhwa is currently working as a Disputes Analyst with American Express and shared practical tips from her personal experience on how to "Challenge your inhibitions and ignite your spark". Miss Wadhwa shared very useful tips on how students can face their fears and insecurities and make the most of every opportunity that knocks on their doors. The session was met with full house participation from the final year students of the Department of Management and Commerce. The students made the most of this opportunity and expressed their enthusiasm by way of a long and candid Q&A session towards the end. In the words of one of our students, "It was a very informative session and I am walking out feeling confident and ready to face any challenge and grab every opportunity that comes my way."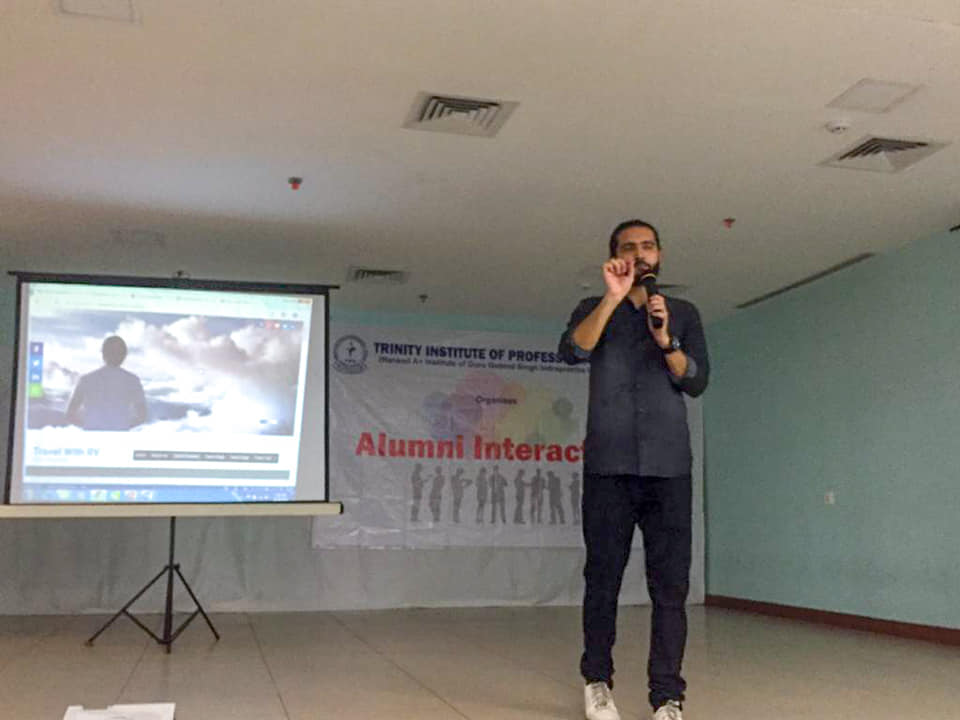 CS & IT Department organised Alumni Interaction by Mr. Rushil Verma of BCA Batch (2013-2016) for BCA Students on 31st August, 2019. Our students got a chance to interact with one of distinguished alumni who is a successful Entrepreneur, co-founder of Dream Travellers and is currently working as Digital Content Creator and community leader in Tripsailani.com. He started his session by being thankful to the college for providing him with the resources and confidence to discover his potential. He demonstrated the use of 'Wordpress' Technology for creating websites and showcased the importance of digital content creation in information technology. He emphasised the use of practical knowledge and learning by experiments by presenting his websites to the students. He motivated students by concluding that there are many career opportunities if you look in right direction.